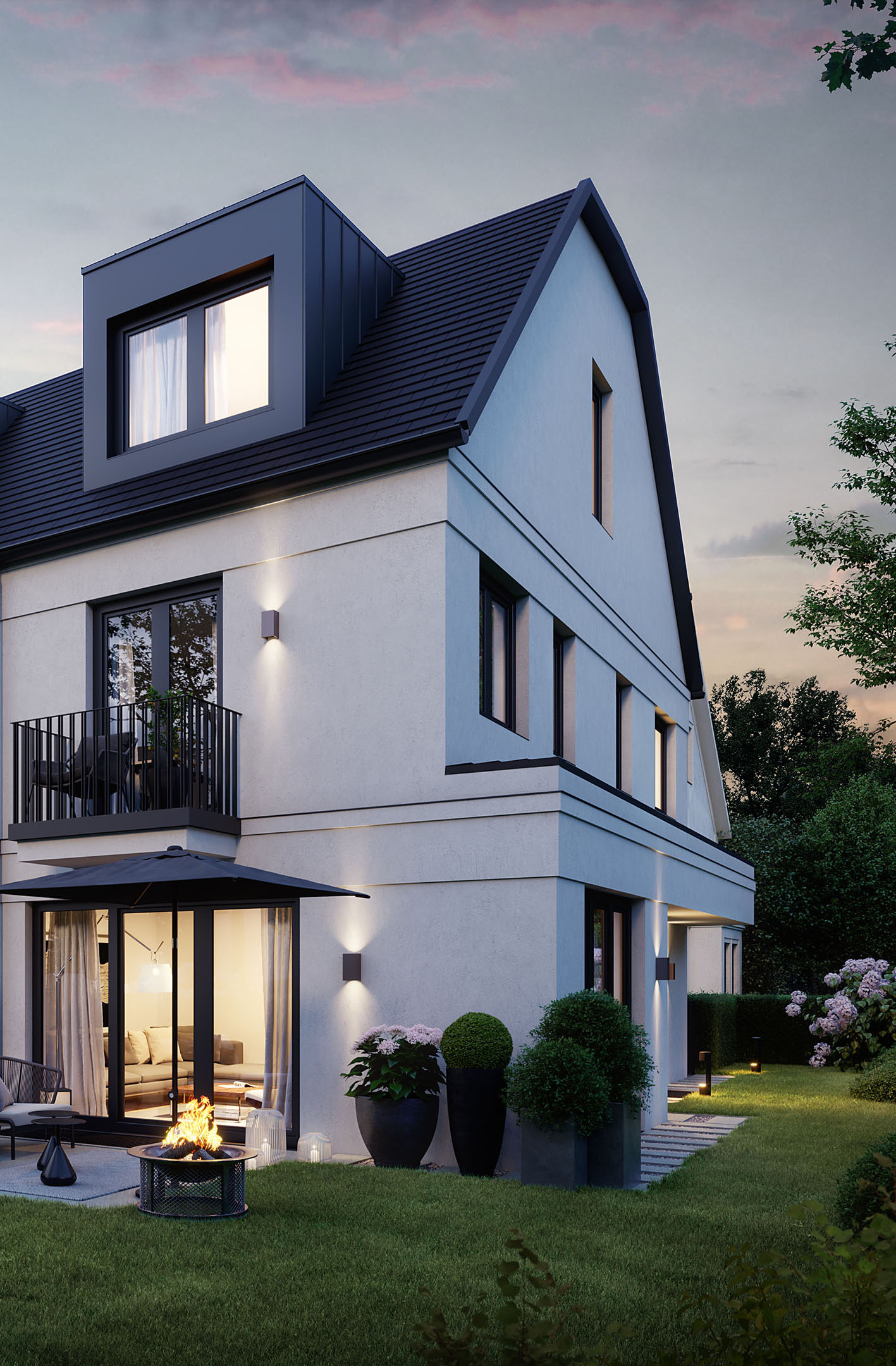 FOUR TOWNHOUSES IN THE GREEN
Leharstrasse 16,
Munich | Pasing
These townhouses feature classic architecture, excellently implemented as a modern building with an aesthetically straightforward façade language. This quartet of houses in Leharstraße represents the ideal form of living for young and old in the urban cityscape.
Rooms:
4 - 5
Living Space:
130 - 164 m²
Property size:
783 m²
Completion:
Spring 2024
PASING - THE CITY WITHIN THE CITY
The heart of the neighborhood has always beaten in the area of Pasing's Marienplatz and the train station. Thus, especially since the creation of a traffic-calmed zone around Pasing's old center, residents have been offered a charming subcenter far from Munich's heavily populated city center. Pasing's Viktualienmarkt, located right next to the town hall, as well as the modern Pasing Arcaden shopping center leave no shopping wishes unfulfilled anyway. It is precisely this mix of tradition and modern city life that attracts people of all ages to Pasing. But if you are looking for peace and quiet amidst the hustle and bustle, you will find it in the district's generous green spaces. First and foremost is the Pasing City Park, which stretches over almost 20 hectares along the Würm River. Here, residents meet regularly to walk, play and sunbathe. For those who want to go a little further afield, there are numerous recreational opportunities in the popular five-lake region between Lake Starnberg and Lake Ammer. You can reach these, for example, via the A99, the freeway ring around Munich or the local and long-distance train network of the Pasing station. Thus, Bavaria's Alps are also just a stone's throw away.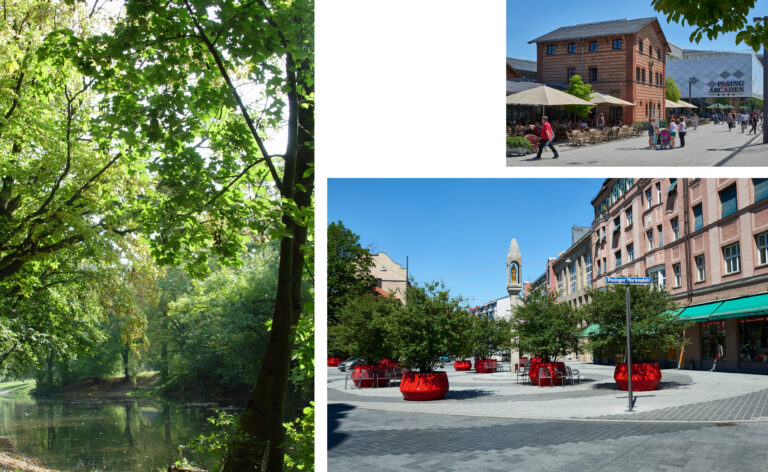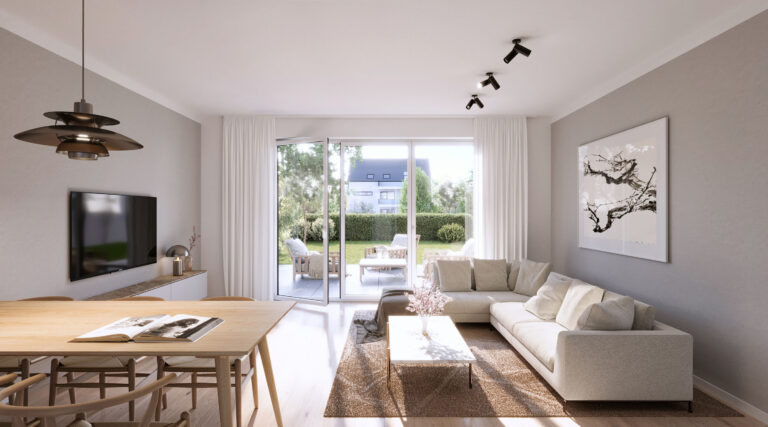 Furnishing details
Premium wide-plank oak country floorboards by mafi, brushed and white oiled, including skirting boards
interior doors model Herholz Zeitlos, with white lacquer surface and rosette handle set Model Hoppe Amsterdam, stainless steel matt, including softclose function with magnetic door latch
Large-surface, square switches and socket outlets made by Gira or Busch-Jaeger (or equivalent) in the color white
USB sockets in the kitchen, master bedroom and children's rooms, for direct charging of smartphones or tablets
Networking all living rooms with homeway system
Electric shutters
Installation of a sauna possible on request
Limescale protection system for drinking water installation
Fully landscaped outdoor areas
Garages with power connection for electric car charging station
Heat pump as energy concept without natural gas
Furnishing details
Premium wide-plank oak country floorboards brushed and white oiled
interior doors model Herholz Zeitlos, with white lacquer surface and rosette handle set Model Hoppe Amsterdam
Large-surface, square switches and socket outlets made by Gira or Busch-Jaeger
USB sockets in the kitchen and bedrooms
Networking all living rooms with homeway system
Electric shutters
Installation of a sauna possible on request
Limescale protection system for drinking water installation
Fully landscaped outdoor areas
Garages with power connection for electric car charging station
Heat pump as energy concept without natural gas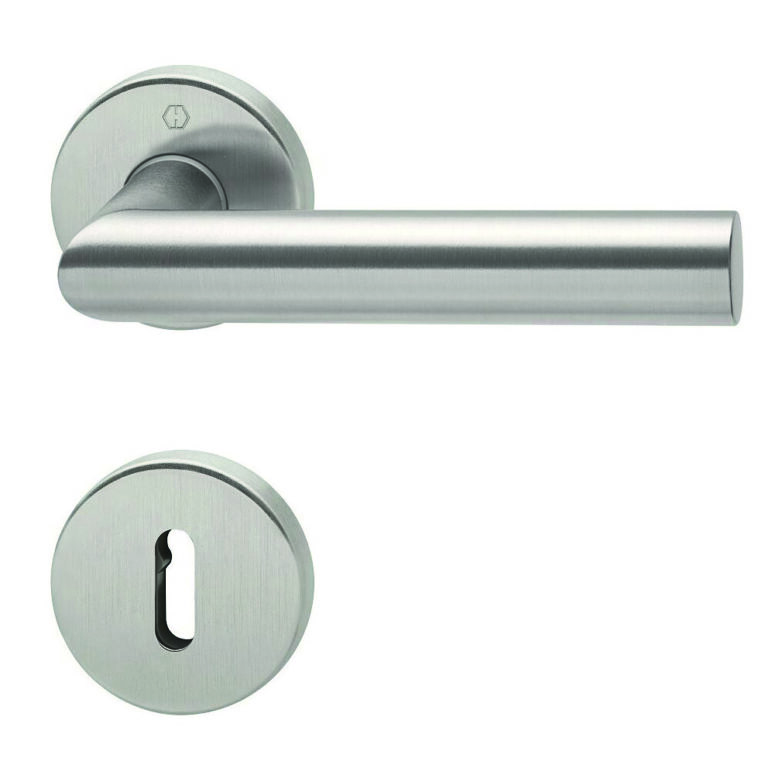 Hoppe Amsterdam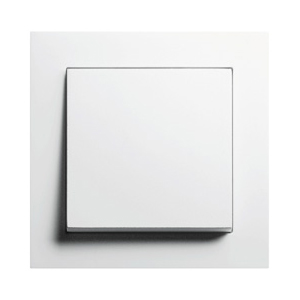 switch system Gira E2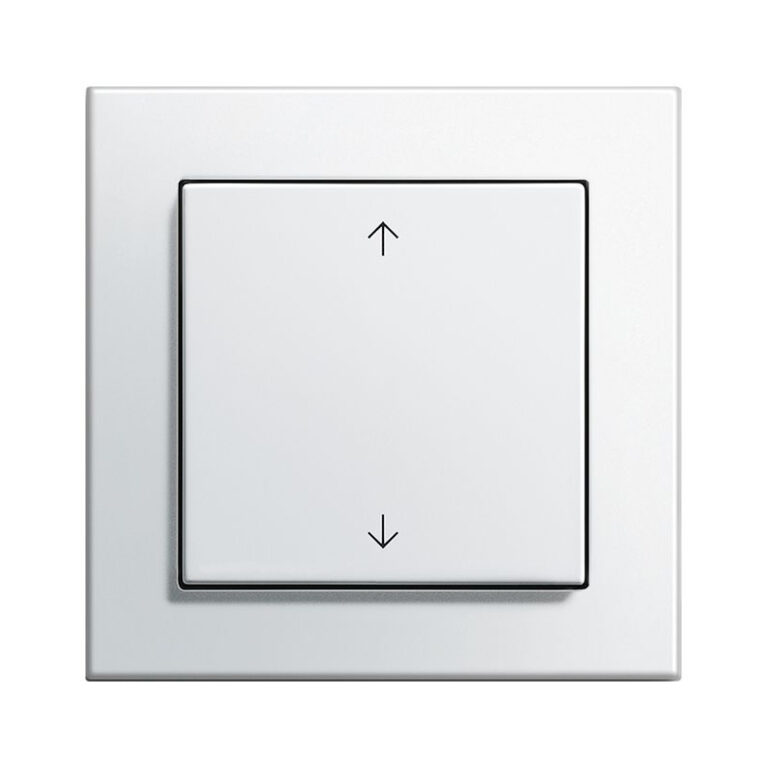 Switch Gira electric shutters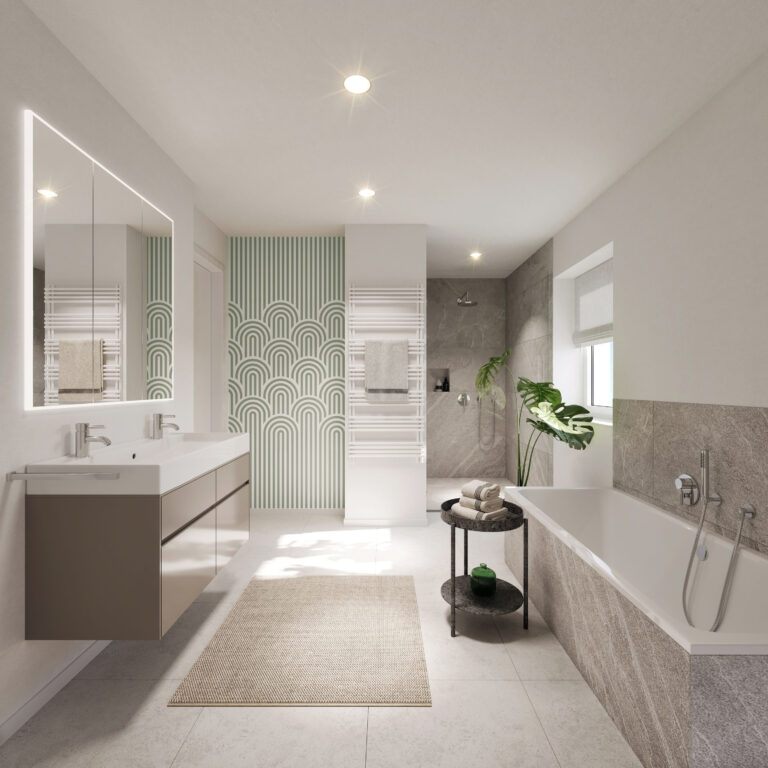 Bathrooms
tasteful, large-format porcelain stoneware
hand basin in WCs Villeroy & Boch Memento
bathroom fittings by Dornbracht Edition Pro META 02
washbasins and toilets by Villeroy & Boch Collaro
built-in bathtub Kaldewei Puro Ambiente
electric towel radiator
shower with real glass partitions
Crystal mirrors above the sinks
Bathrooms
tasteful, large-format porcelain stoneware
hand basin in WCs Villeroy & Boch Memento
bathroom fittings by Dornbracht Edition Pro META 02
washbasins and toilets by Villeroy & Boch Collaro
built-in bathtub Kaldewei Puro Ambiente
electric towel radiator
shower with real glass partitions
Crystal mirrors above the sinks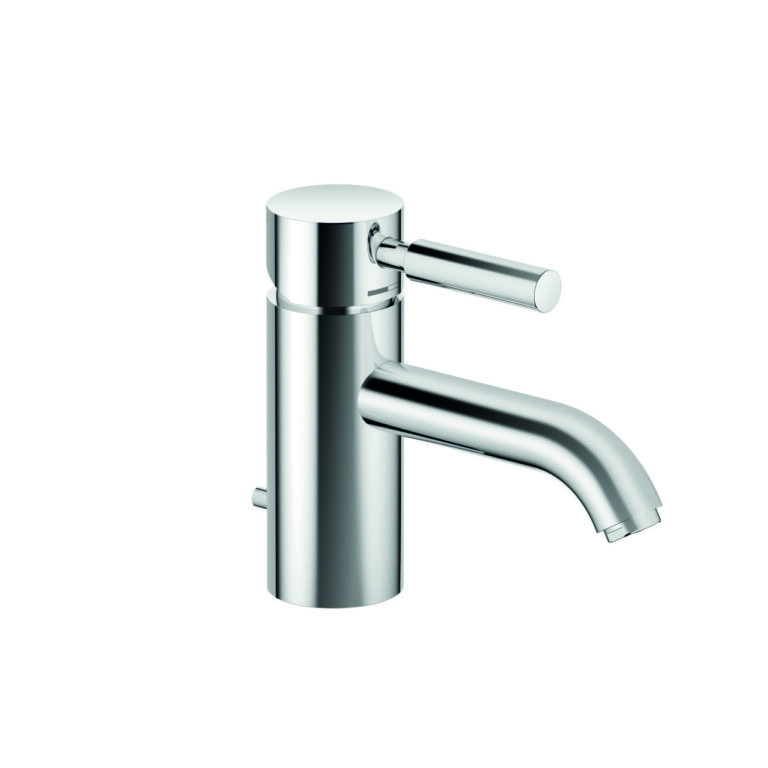 Dornbracht Edition Pro META 02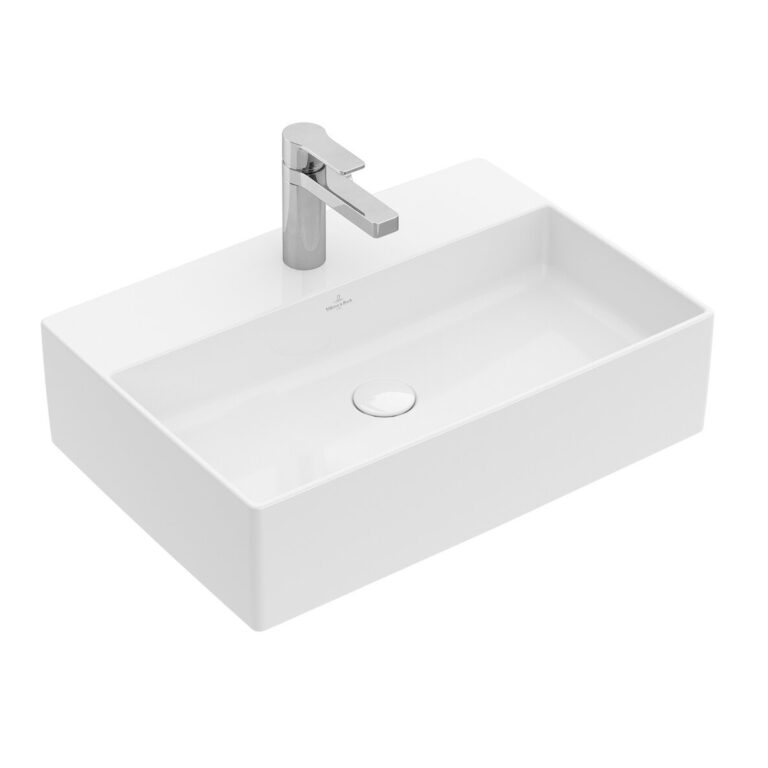 Ceramic series Villeroy & Boch Memento 2.0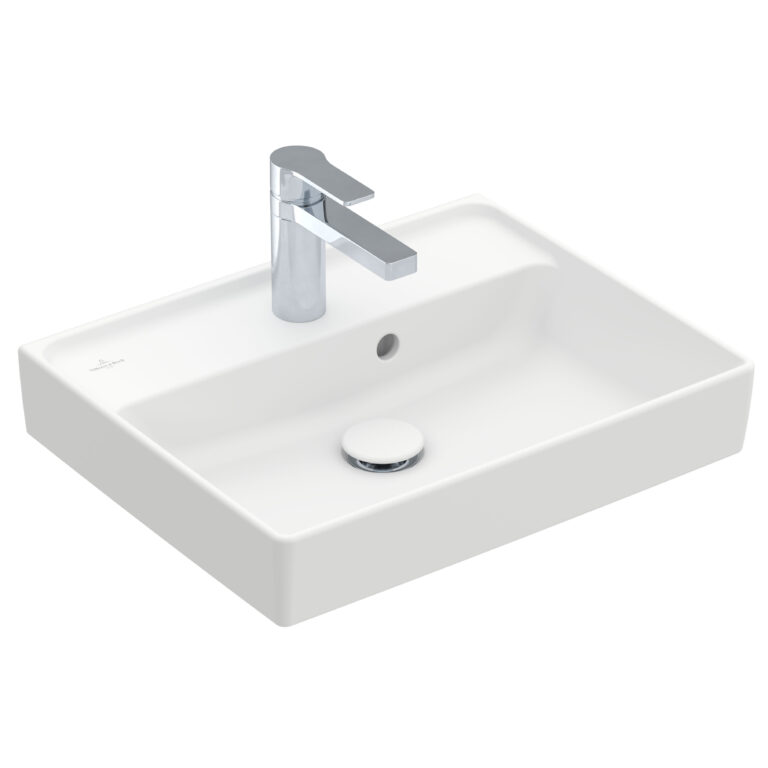 Washbasin Villeroy & Boch Collaro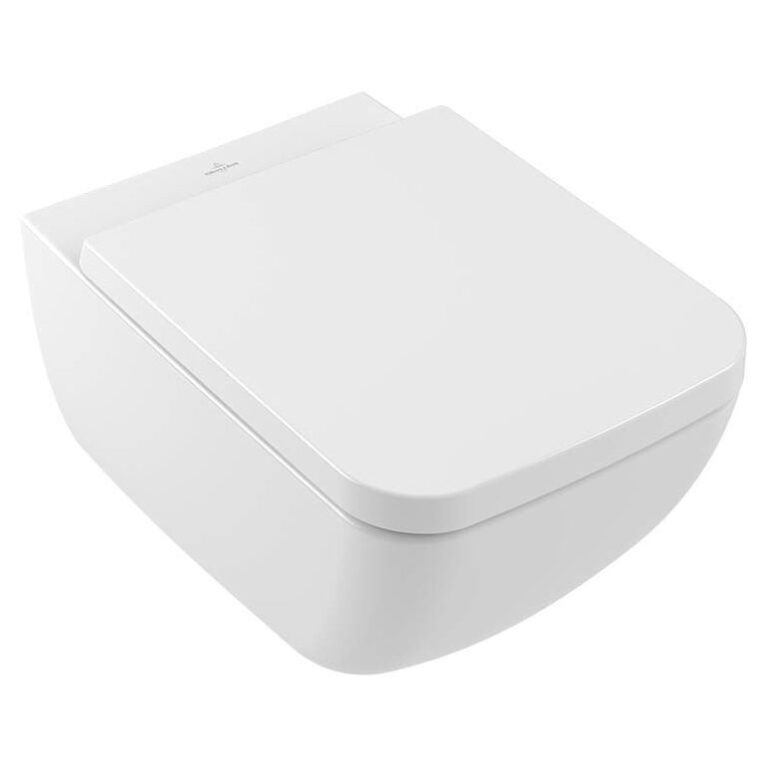 WC Villeroy & Boch Collaro